WHY USS?
At USS, everyone has the opportunity to go places in their community and career while enjoying the benefits you need to live your life.
Easy, Safe & Clean
Our brand promise to our customers of being Easy, Safe and Clean extends to how we engage with each other. We want an environment where everyone can thrive, belong and be heard.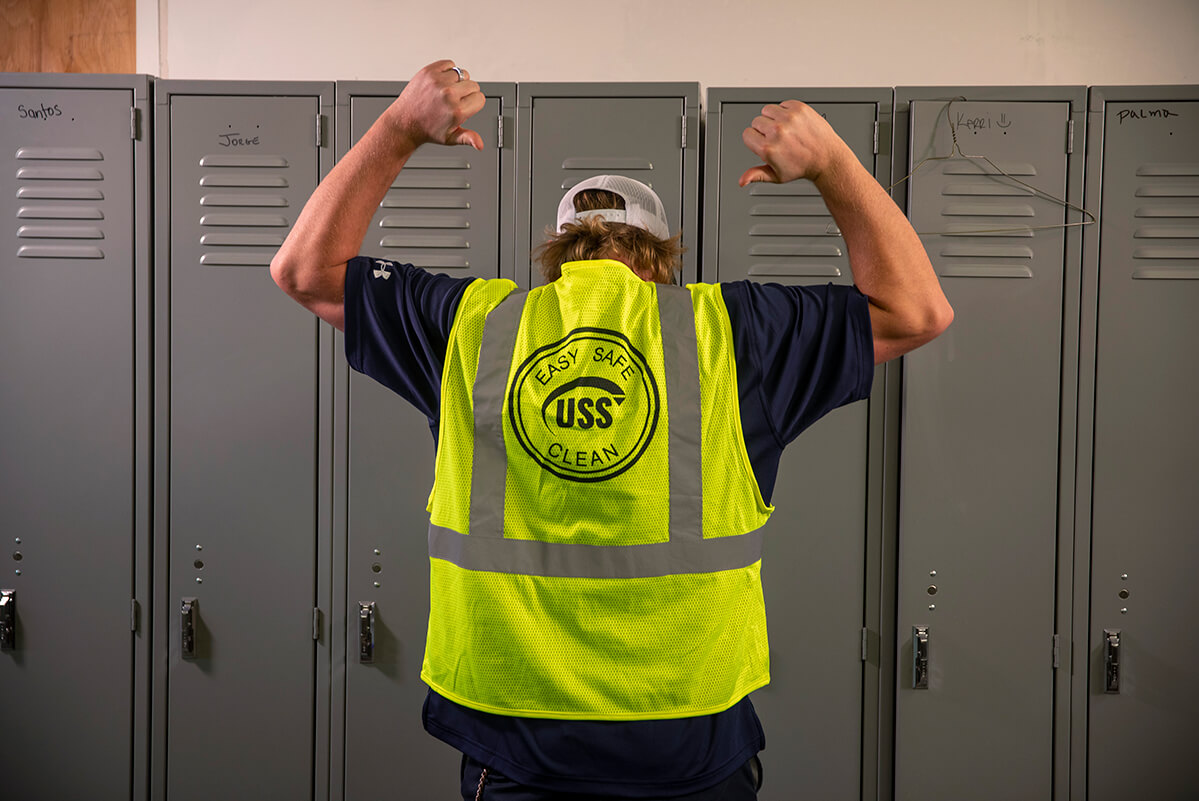 USS Voices
I came to USS for the opportunity to work outdoors and for the freedom of the job and truck. I get my route, I go out and do my thing; as long as you're getting done what you're supposed to each day, everything just flows. We have a really good family at USS; we have each other's backs and we have fun with each other.
Chris Collins, Field Development Specialist
There is a dynamic vibe to working on the United Site Services team. The culture is one of teamwork, where the leadership is both involved to the extent that you always know there is someone to turn to when in need of guidance, yet they allow us to operate in a flexible way as determined by the territory. We thrive on teamwork and communication. Being a member of the USS team is simply fun. I couldn't ask for a better place to work!
Cara Mezzetti Salmon, Territory Account Manager, New England
USS is a wonderful place to work; it is full of amazing opportunities from meeting some truly hardworking & kind people, to the benefits package and potential for career growth. It's a company that works hard to recognize the work and achievements of its employees, and that comes across in many ways, but especially in the culture at USS. They have cultivated a friendly and welcoming environment; even when working remotely, I feel as though there is still a strong connection and sense of team spirit with everyone I work with.
Liz Scanlon, Accounts Payable Specialist
The best part of working for USS is the alignment of my personal values with company values. I feel a sense of belonging here and really like the people I work with.
Squeaky Deering, 2022 Frontline Finest of the Year and Service Technician
Employing Our Heroes
We honor those who serve our country in the armed forces and not just on Veterans Day. We respect the time you committed and the sacrifices you made to serve our country. We are grateful for our veteran employees and value the qualities and skill-sets they bring to our organization. Discover how you can build upon your military experience at USS.
Benefits & Perks
USS has grown to become the largest and most significant player in the industry - and we're not done yet! We move fast and work hard, but also know the importance of living a balanced life. In addition to a comprehensive benefit package, many of our employees can enjoy remote work options and flexible schedules.
Flexible Schedules
Medical, Dental, Vision Insurance
Paid Time Off and Holidays
401K with Company Match
Life Insurance
Disability
Competitive Pay
JOIN THE USS TALENT COMMUNITY
Sign up to connect with us and receive notifications of new job openings near you.
Sign up